Experience Gentle, Precise Care at Madison Chiropractic
Helping people get back to doing the things they love is what we're all about at Madison Chiropractic. Monona Chiropractor Dr. Sara Nelson is committed to providing gentle adjustments so that people of all ages can feel comfortable and safe. She uses specialized x-rays that help detect the spinal misalignments and deliver a precise adjustment to the upper neck. Many of our patients come to us by word of mouth, and we are delighted that people share the results they've gotten with our care.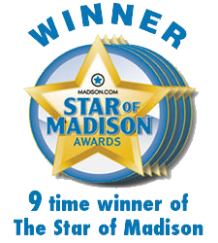 We are also an 11-time winner of the Star of Madison Award for excellence in chiropractic care.